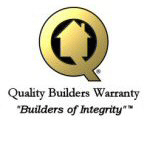 Aspen Summit, builders of the finest and fastest selling town-homes in Provo, UT,  is pleased to announce that we have been accepted into the Quality Builders Warranty program and that all of our new town-home owners will receive a Quality Builders Warranty.  A 10-year Premier Protection Plan, Insured by Liberty Mutual.  See below for details and feel free to call our sales office at 801-477-7384 for more information.
Quality Builders Warranty – Builders of Integrity™
What Does Integrity Mean to You?
To Quality Builders Warranty Corporation (QBW), integrity means adhering to a strict standard of excellence.  Builders that we accept into our warranty program strive for superior workmanship, consistently creating quality homes and providing dedicated service to their customers.
For homeowners, the selection process allows you to feel confident in the construction of your home – you greatest asset and often one of the largest investments you'll ever make.  Builders who have demonstrated the highest skill and integrity earn the right to membership in the QBW program.
Your Warranty is Backed by Liberty Mutual
Your home warranty is backed by Liberty Mutual – one of the largest insurance companies in the United States.  Founded in 1912, Liberty Mutual brings a strength and stability that reinforces our commitment to you.
The Benefits of the Quality Builders Warranty
As an educated homebuyer, you know that QBW builders are among the nest builders in the country.  The warranty provides coverage that goes beyond the walls, below the floors and into the spaces you can't see.  That's just one of the benefits QBW provides.
With QBW, you also benefit from:
A more marketable home when it comes time to sell, because the warranty is automatically transferable to subsequent buyers.
The stability of a warranty backed by Liberty Mutual, one of the largest insurance companies in the United States.
Potential discounts on homeowners insurance, because Liberty Mutual recognizes the high quality of construction by builders in the Quality Builders Warranty program.
Group auto insurance discounts, made available through Liberty Mutual to eligible QBW homeowners.
A simple and efficient complaint resolution process, should a problem ever arise.  This process is designed to save both the homeowner and the builder time and money.
A clear understanding of what is covered by the warranty and who is responsible for replacement or repair.
Confidence that your home will meet QBW standards.
10 years of premier protection.